The Brothers of Charity Services have various Social Enterprises for adults with learning disabilities; services are designed to support people to develop skills with confidence in a supportive working environment whilst offering services in the local community.
Crafty Uniforms is one of the social enterprises that we offer at the Brothers of Charity Services. The team at Crafty Uniforms have been very busy lately.
Wonderful Noticeboards
Our team at Crafty Uniforms have got the creative bug! They have working very hard designing and producing this wonderful notice board for our craft workshop. Andrew, Fax and Chris had lots of fun working on this and were thrilled with their results.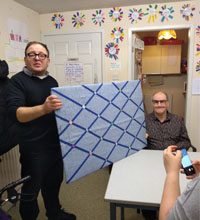 Spotlight on Stock- uniforms
Matthew and Rachel have been trying our school polo shirts and displayed them in such a beautiful presentable way. We have lots of new pre-loved stock of primary and high school uniforms at low, low prices. For the month for January everything in the shop is on a "Buy 2 get 2 FREE". But remember everyone- when it's gone it's gone!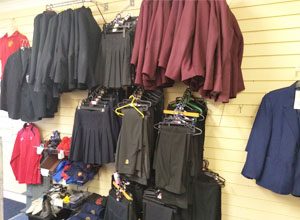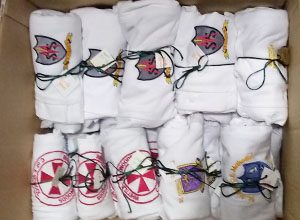 January Sale- Buy 2 Get 2 Free!
The Crafty Uniforms January Sale is in full swing at their shop on pall mall, Chorley. Several of their customers have been going out carrying arms full of exciting purchases. From embroidery skills, cross stitch, patterns, craft books, beads, fabrics and patchwork pieces. Along with lots of other crafty bits and bobs. One customer said "I feel like it's Christmas again!"
Welcome sign
Andrew Parrott has been making a new open sign for the shop door; his smile says it all! He was really happy with what he made. We now have a lovely new sign to welcome our customers to Crafty Uniforms.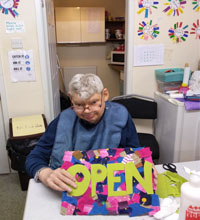 January Sale Window Display
Our team at Crafty Uniforms were working hard to design our new window display to promote our January Sale offer of "Buy 2 get 2 FREE". Andrew Beatrie, Andrew Parrott and Damion Teasedale all helped to craft our "Sale" sign.
Hannah and Joanne helped to make the snowdrops to create a seasonal theme, which looks fabulous alongside the snowflakes fluttering down the window, created by Andrew and Damion.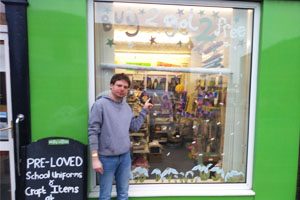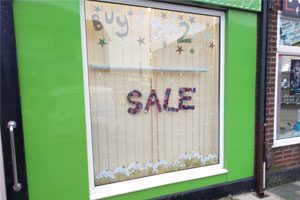 Thank you to all our amazing donors.
Our team would like to give many thanks to all our generous customers and donors who have dropped off bags and boxes of pre-loved craft items and school uniforms during the month of December.
We really do appreciate every single item, as these all go to help filling out shelves with stock.
We have had many items of jewellery making materials, lucky bag items, fabrics, embroidery making materials and patterns, fur fabric, boxes of paper, sticky backed plastic, crafting DVD's, acetates, wool, and so much more.
We really do appreciate everything we receive- thank you all so much, and please keep them coming!
Twelfth Night
Twelfth Night is traditionally seen as the last day to take our Christmas Decorations down. Put the tree, lights and baubles back in the loft or the garage, and throw unwanted Christmas Cards away. Or maybe send them to the Recycling Centre? But did you know that here at Crafty Uniforms we can take your old pre-loved  cards and turn them into gifts tags, labels and new cards to use again. We have already had several bags of donated cards and are ready to receive more.
Whilst you are dropping yours off, why not spend more time mooching around our lovely shop, you never know what craft materials you might find and all at great prices and currently our January Sale offer is BUY 2 GET 2 FREE on everything in our shop; including items of school uniform such as, ties, shoes, trainers, trousers, skirts, blazers, shirts and jumpers. We have stock for most of the primary and high schools in Chorley Education District.
We look forward to offering you a very warm welcome really soon.