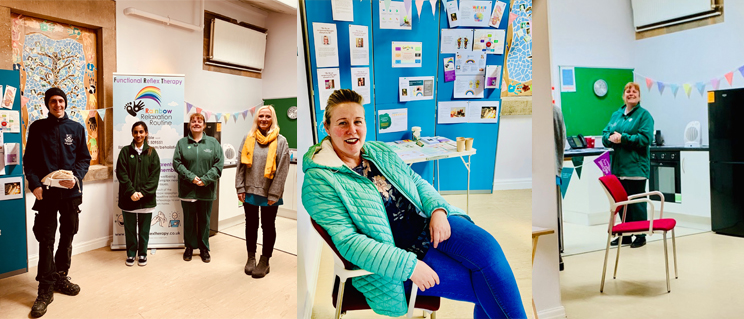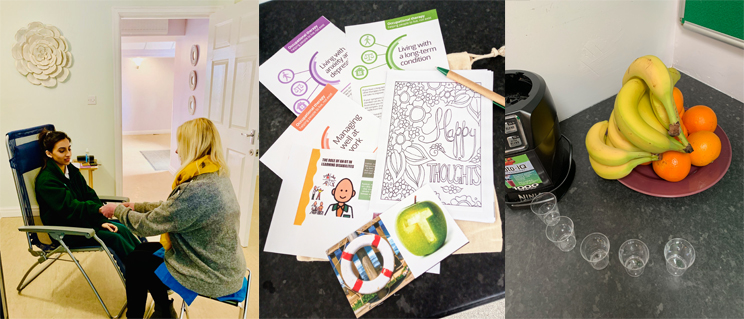 On Wednesday 7th April we hosted a Wellbeing Wednesday Session at Lisieux Hall as a gentle welcome to the beginning of a new Holistic Therapy service. The day gave staff the chance to come along and find out what we have to offer and how they and the people we support can benefit from the service.
Sticking to a Covid-19 safe environment, many people took advantage of a mini therapy session with registered Holistic Therapy provider Liz Keeble, focusing on self-care and the Rainbow Relaxation Technique. They then enjoyed a chat with our Occupational Therapy students, Sarah and Zainab, about the many benefits of Occupation Therapy. Some tasty fruit smoothies and complementary samples of fragrant oils were also indulged by many. It was a great day had by all.
The feedback we received from the day was extremely positive, with everyone attending saying they are all looking forward to many more opportunities to access the service. When some attendees where asked how the event had helped them they found just talking to someone and getting away from the computer has really benefited them. They also enjoyed learning new techniques to help calm you down.
With such a great response from our Lancashire event, we are excited to announce the services will be coming to our Merseyside and Greater Manchester services very soon! Make sure to keep a look out for further developments as our services expand as part the Brothers of Charity Services' commitment to the wellbeing of all who live and work within our organisation.