The Brothers of Charity Services have various Social Enterprises for adults with learning disabilities; services are designed to support people to develop skills with confidence in a supportive working environment whilst offering services in the local community.
The social enterprises carryout lots of great, fun, activities for the people we support and the local communities to get involved with. Here you will be able to find out what each of the social enterprises have been up to recently.
Happy St David's Day and hello to March! Spring is in sight with the arrival of beautiful blooms and lighter nights. It's a busy month with Pancake Day, St Patrick's Day and Red Nose Day to look forward to!
Voice for All
Voice for All, our self- advocacy group from our Lancashire Services, had a great time in Blackpool this week for the National Self Advocacy Convention!
Pets' Corner
Our lovely Liquorice has been enjoying relaxing in the guinea pigs' hay basket! If you're at Astley Park this week call in and say hello, we're open every day between 10am and 3:30pm.
Click here to view Pets' Corner facebook page.
The Walled Garden
The Walled Garden team have been busy tidying up their borders this week!
Come along and see what they're up to, they are open between 9:30-3:3pm weekdays and 11-3pm weekends in Worden Park.
Spring has arrived and it's time to cut back the herbaceous perennial that have decorated the garden with their speed heads. Dan is shown here cutting back Sedum spectabile which will help maintain its shape.
Click here to view The Walled Garden facebook page
Roccoco
Who's excited for Pancake Day! Pop in to Roccoco and celebrate with our American style pancakes served with blueberry compote, fruit, maple syrup and melted butter for just £4.25!
Click here to view Roccoco's facebook page
Crafty Uniforms
Our team were very busy last week, preparing craft activities for the toddler group at Chorley Methodist Church. The group made sun catchers by using two paper plates, with a circle removed from the middle, and a sheet of plastic glued in between the two plates! The toddlers glued and stuck squares of brightly coloured tissue all over to create a beautiful effect, which looked amazing when held up to the sunshine.
Thank you to all of the team at Crafty Uniforms who helped with preparation and to Lee, Emily and Karen for helping deliver the session.
Happy International Women's Day! Our awesome team have been busy for weeks creating beautiful flowers used to craft the number 8 on our International Women's Day Themed window display. We've used colours that are linked to the suffragette movement; green, white and violet representing Give Women (the) Vote.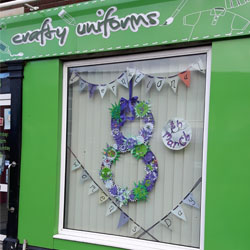 Click here to view Crafty Uniforms facebook page