The Brothers of Charity Services have various Social Enterprise's for adults with learning disabilities; the services are designed to support people to develop skills with confidence in a supportive working environment whilst offering services in the local community.
The social enterprise carryout lots of great, fun activities for the people we support and local communities to get involved with. Here you will be able to find out what each of the enterprises have been u to.
Crafty Uniforms
Recently our wonderful Crafty Uniforms team were proudly presented with a certificate of appreciation from Lady Catherine Hoyle, for their contribution to Chorley in Bloom. Well done to everyone for all their hard work and dedication.
Photos from the awards ceremony can be found on the Chorley in Bloom Facebook page.
Last week our Crafty team made a thoughtful 'Miss You' card for the local convenience shop who have sadly had to close. They provided us with milk over the years, so our team wanted to say their goodbyes by presenting them with their kind gesture.
Our Crafty team have had a 'cracking' time lately making their very own Easter eggs, using balloons and papier mache. They can't wait to decorate and show them off in their Easter window display once they're all dry and ready to go. We are sure the finished products are going to be amazing!
Click here to view Crafty Uniforms Facebook page.
The Walled Garden
Spring is in the air and with the sun making an appearance over the past few days, our team at The Walled Garden have been making the most of it and have started a seasonal task of sowing seeds. Here's Adam sowing tomato and chilli seeds!
Pop in to our social enterprise over the weekend and see what else they've been up to. They're open Saturday and Sunday, 10am to 4:30pm.
It's been another busy week at The Walled Garden with the team preparing for spring! They've been working together to build a raised bed in their Polly tunnel, with a plan to grow an early salad crop. We look forward to seeing the rewards of all of the team's hard work over the next few months.
The team recently received a request from a customer for a table that can be used in their greenhouse. We are sure you will agree that Les and Ulrich have done an amazing job and we hope the lovely customers love it just as much as us! Here is Ulrich adding the finishing touches with a coat of wood stain.
Click here to view The Walled Garden's Facebook page.
Roccoco and the Marina Café
To celebrate St Patrick's Day Roccoco treated our lovely customers to some traditional Irish delicacies. Pop in and try some Irish stew served with soda bread for £6.95; the perfect partner to some Irish Barmbrack (tea loaf) for just £1.95 a slice. Roccoco in Leyland is open 9:30am to 3:30pm, and The Marina Café in Adlington is open 9am to 4pm.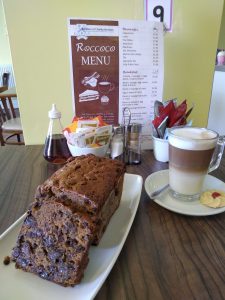 Click here to view Roccoco's Facebook page.