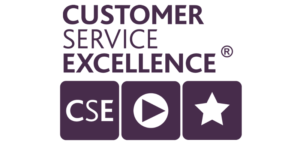 We have been recognised as achieving customer service excellence for another year, with full certification and five Compliance Plus elements.  
The Customer Service Excellence (CSE) Standard is a national quality mark that seeks to recognise organisations that have a truly customer-focused culture. It is a continuous improvement tool to help organisations provide efficient, effective, excellent, equitable, and empowering services.
How it is assessed
Over a three-year period, the CSE Standard is achieved through a rigorous assessment criterion, which is a mix of research, management and operational models, and most importantly, practical experience in providing services. There are 57 elements assessed across five key areas:
Customer insight
Culture of the organisation
Information and access
Delivery
Timeliness and quality of service
Our assessment
The CSE assessor's review took place over three days in September 2022, across all three of the BOCS regions — Lancashire, Merseyside, and Greater Manchester. ­­­
The assessor spoke with various Brothers of Charity Services staff to validate and challenge all of our evidence against the Standard.
The outcome
We are proud to reveal that the CSE assessor awarded the Brothers of Charity Services in Lancashire, Greater Manchester, and Merseyside the achievement of full accreditation with five Compliance Plus elements.
The CSE Report reflects very well on BOCS England as we emerge from a very challenging period of constrained communication and interaction through two and a half years of Covid-19 restrictions.
The Report goes on to positively state that the "Brothers of Charity — Lancashire, Greater Manchester and Merseyside have worked tirelessly to ensure the quality of service continued to develop and improve through the pandemic with quality staff and partners. Senior management continues to put the customer at the heart of everything they do."
CSE Report summary — key strengths  
There is a real determination to provide the services agreed with the clients and to ensure the quality has remained high during the pandemic
There is a real interest in ensuring their staff have the right skills and development opportunities to carry out their responsibilities and have achieved Investors in People
Brothers of Charity Services — Lancashire, Greater Manchester, and Merseyside have a clear understanding of their clients' needs and work closely with them and their families to provide the support they require.
Criterion 1 — Customer Insight 
This criterion focuses on the importance of understanding our clients thoroughly. Understanding our clients is essential to continue to raise our standards and levels of service and, despite a difficult period during the pandemic, "[we] are still achieving great satisfaction results from [our] clients and families through various surveys and compliments received."
The report outlines that "it was clear that a number of areas proved the BOCS commitment to put the client at the heart of the service delivery."
Criterion 2 — The Culture of the Organisation
This criterion is concerned with supporting customer-focused approaches throughout the Services so that excellent service is delivered to all our clients.
The Report summarises that "BOCS has shown their leadership commitment putting the customer at the heart of service delivery. During senior management sessions, it was clear all were supportive of this and were keen to express how this is at the heart of why they were established so many years ago. The culture is clear in their vision when it says, '…to provide services which support people's individuality, choice, rights and aspirations.'"
Criterion 3 — Information and Access 
For this criterion, we demonstrated a focus on effective communication plans for consulting and involving clients and their families.
The assessor reports, "working with partners is something BOCS is keen to do, especially when they can be involved in the community. Building up strong relationships with Dobbies Garden Centre has enabled various events to take place, assisting the spread of information about BOCS and their activities. This relationship has led to an innovative recruitment event at the garden centre where service users now actively take part in the interview process. This was very forward-thinking and the assessor agrees that this should go forward as a Compliance Plus element."
Criterion 4 — Delivery
This criterion relates to how we carry out our services, the outcomes for our clients, and how we manage any problems that arise.
The feedback from the CSE assessor confirms exceptional delivery standards: "Standards are very high for BOCS and this was confirmed through various documentation shown at the Desk Top Review. It is essential that, whilst dealing with vulnerable people, the quality of care is set high and that these are continually monitored to ensure the quality is consistent and constant."
Criterion 5 — Timeliness and Quality of Service
The final criterion draws heavily on what users have identified as the most important factors of excellent customer service.
The report summarises that "CQC Standards give clear information about the quality of service provided and with BOCS having achieved IIP Gold, they have external evidence of being vigilant in their quest to continually achieve high-quality levels for their work and their focus on the quality of staff."
The CSE 3 Yearly Assessment Report concludes that "the Brothers of Charity Services' most important work is being undertaken in partnership with the people that use the service. They are fully committed to supporting people to independence through making choices and exerting control over their own lives. Adding, "the service is now able to offer greater diversity in the range of opportunities available to people, which, in turn, can only enhance their life chances, regardless of their religious beliefs, gender, sexual orientation or race."
Darron Grundy, Chief Executive of BOCS, said, "On behalf of the Trustees and all the wider stakeholders of the Brothers of Charity Services, we would like to express our great and heartfelt thanks for the continued high-level positive engagement, compassion, respect and professionalism shown day-to-day by all the staff colleagues through excellent quality of care and support services we deliver to those we are privileged to support and all our wider stakeholders."