This year's National Apprenticeship Week ran from 4th to 8th March 2019. The theme was 'Blaze a Trail', which was inspired by their slogan, Fire it up.
To celebrate our apprentices and what they have achieved during their time at Brothers of Charity Services, we have spoken to a number of our employees who have completed an apprenticeship with us to find out about their journeys, from starting as an apprentice to now being a full time member of staff.
The below 'Apprenticeship Profiles' highlight how much the Brothers of Charity Services value the apprentices who join our organisation and the noticeable impact that they have made. Once completing an apprenticeship with us, the journey with us doesn't stop there. We have a range of exciting career opportunities available for our apprentices to kick-start their career with us!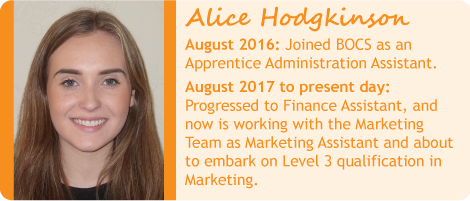 Alice says, "During my typical day at Brothers of Charity Services I assist with any marketing communication tasks that need to be completed such as creating newsletters, updating the website and intranet with articles, creating flyers for BOCS' events in order to promote them across our services. I also help to manage the social media accounts for the Brothers of Charity Services and for our social enterprises in Lancashire.
During my apprenticeship, I enjoyed gaining new skills and experience in a working environment which I had never had before. The people who work for the Brothers of Charity Services were so welcoming and helpful; it really put me at ease. After finishing my apprenticeship, I have been fortunate to have worked in several different departments such as finance, payroll and marketing were I have finally found something I really enjoy and would like to pursue in the future."
---

Jonathan says, "Since completing my apprenticeship, I have been working in the Learning and Development department for Lancashire Services. In general I tend to oversee the training compliance for Lancashire as well as provide prompt reports on training data for Team Leaders and Senior Managers. I currently deliver the Dementia Awareness course in Lancashire and have been delivering the Training Induction to new starters since I started over three years ago. I hope to continue my involvement by assisting with the delivery of Autism Awareness in the near future.
I am currently undertaking a further qualification, Level 3 CIPD in Learning and Development, which is intended to continue my development and help me continue to branch out into my role.
From when I began my apprenticeship, my opinion has been valued and I've been able to continue to branch out in to areas that I'm interested in."
---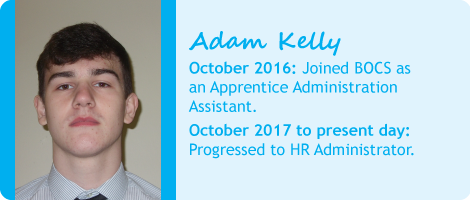 Adam says, "Whilst I was studying IT in school I knew I wanted to work in a business environment. Gaining qualifications was really important to me and I thought doing an apprenticeship would be a good way to do it as I would be learning practical skills as well. The apprenticeship was my first job and I thought that potentially if I worked hard I could gain a full time job at the end of it, which I did. Two years on my role continues to develop into recruiting new members of staff, minute taking, sickness absence, reception cover, admin and general phone enquiries. Since doing the apprenticeship I have grown in confidence as I feel comfortable interviewing and my communications skills have developed."
---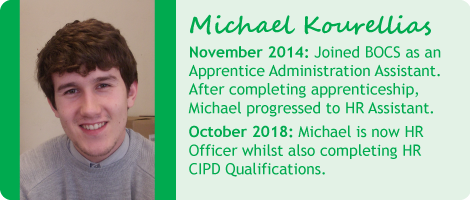 Michael says, "Everyday is different. When I was an apprentice at the Brothers of Charity Services, I started out in Recruitment. I enjoyed learning new things everyday and working with different managers to see how they managed people. Now, 5 years on, I am a HR Officer at Brothers of Charity Services and everyday is still different. I'm now involved in managing absences, writing letters, advising and dealing with general enquiries."
---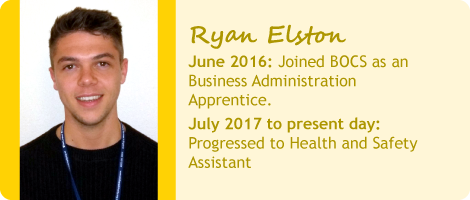 Ryan Says 'My typical day within the Brothers of Charity Services involves tasks such as assisting with day to day Health and Safety queries and issues. This could be within the onsite Nursing Homes or at one of our Supported Living /Social Enterprise tenancies across Lancashire.
I am often out of the office auditing health and safety paperwork kept within BOCS properties, which is reported to senior managers to ensure that we remain compliant with the law. This ultimately keeps our service users, staff and any visitors safe.
I also assist managers with various general, pregnancy and fire risk assessments as well as other important documents so that they comply with company policies and standards.
During my time as an apprentice at Brothers of Charity Services I enjoyed gaining skills and knowledge within the Health and Safety field; a field in which was new to me upon joining BOCS at 17 years of age. These skills helped me to gain confidence in speaking to new employees within the company and to people outside of work.
The organisation was keen to invest in my future by putting me through training courses and qualifications which made me feel motivated to succeed and repay my manager's confidence in me. This was enhanced by fact that I could see a permanent appointment and career progression at the end of my apprenticeship.'
---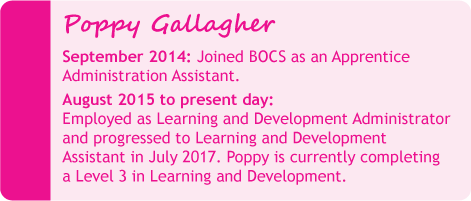 Poppy says, "At the beginning of my apprenticeship with the Learning & Development department, I was shown the basic day to day tasks of the office such as setting up equipment for training courses, printing evaluation forms, registers and training materials such as test papers and handouts. Once a course ended I would then collect the evaluation forms and register and use these to update our system, logging who had attended and the evaluation data which was reported on a quarterly basis. Filing, internal and external room books and general admin tasks were also part of my duties.
During my apprenticeship I gained many new skills and experience in a working environment which I still use now that I am a permanent member of staff. The process helped my confidence and encouraged me to work more independently without having to rely on other members of staff but also improved my ability to work as part of a team."
---

Reanna says, "My typical day at the Brothers of Charity Services includes updating clients' review packs, completing day to day administration duties and covering reception at Thingwall Hall.
What I've enjoyed the most since beginning my apprenticeship is meeting and getting to know the people we support and how my role in the Care Admin team contributes to their wellbeing. I also enjoy getting to know my fellow colleagues!"