The staff and people we support from our Greater Manchester Services have found many different ways to keep themselves busy whilst staying safe at home. From painting to peaceful walks they've tried it all.
Paul and his support worker Keith enjoyed a peaceful walk on Saturday as part of Paul's daily exercise. They took a stroll around the local park, taking in the stunning scenery whilst listening to the relaxing sound of the river.
Getting out for your daily exercise is more important than ever at the moment to look after your own health and wellbeing. Arthur from enjoyed a sunny stroll down the canal near Elton Reservoir and spotted a swan's nest along the way. He had a lovely time on his long walk and being one with nature!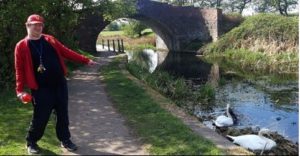 JD and his support worker Carla, have been taking in the fresh air on their weekly walks around Etherow Park, where they have been watching a group of ducklings grow and have really noticed the change each week! Due to JD's favourite places to visit currently being closed, he has really enjoyed doing something different and of course meeting up with his fury friends.
John, along with support from his support worker Adelle, has combined his creativity with recycling to make his very own easel out of a cardboard box to help him with his art work. He also turned some cardboard tubes into paint brush holders. Well done John this is an excellent idea!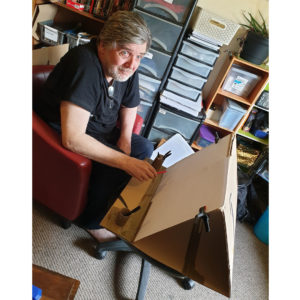 Arthur has been making the most of being inside by taking some time to do a deep clean of his house. With some cleaning tasks given by his support worker Derren, Arthur done a fantastic job and his house is looking spotless!
Adelle, a Senior Support Worker in Greater Manchester, has been encouraging the people she supports to paint and colour and find new ways to relax whilst being at home. Here is Steven with his art set ready to start on his masterpiece. Steven will hopefully get to show off his creation to us soon!
After a busy day Janet, and her support worker Adelle, decided to do some painting. They painted some beautiful dandelions using only a toilet roll tube, cotton buds and one paint brush- what an amazing piece of artwork! Janet was extremely pleased with her painting, finding it quite relaxing and of course enjoyed spending time with Adelle creating it.