The Brothers of Charity Services have various Social Enterprises for adults with learning disabilities; services are designed to support people to develop skills with confidence in a supportive working environment whilst offering services in the local community.
The social enterprises carryout lots of great, fun activities for the people we support and the local communities to get involved with. Here you will be able to find out what each of the enterprises have been up to.
Crafty Uniforms
The Crafty Uniforms team frequently welcomes an assistance Guide Dog in to their shop who does a wonderful job of supporting one of the team members. If you see him out in public wearing his harness, please remember don't speak to him or stroke him as he's busy being a hero. We're sure you will agree he's doing a fantastic job!
The wonderful team at crafty have been wrapping up their prizes with their amazing hand crafted wrapping paper, ready for the Lucky Dip at Heritage Day. There will be lots of surprises to be won on the day; we hope to see you all there. Everyone is welcome!
We are asking for kind donations of unopened unwanted gifts, chocolate or wine etc. Please leave any donations with reception at Lisieux Hall, Thingwall Hall, at our Greater Manchester office or with the team at Crafty Uniforms. All donations are greatly appreciated!
The Crafty team visited the 'Chorley in Bloom' shop on market walk last week. We took to a trip to gain some inspiration for future crafting ideas and we were certainly not disappointed! The work that was done was absolutely amazing, and we left with some fabulous ideas.
Remember, you can purchase all pre-loved wool and knitting equipment from our shop. We are open Monday to Friday 9am to 4pm.
Good luck to the Crafty team who have entered the 'Chorley in Bloom Bug Competition' with their amazing buzzy bugs!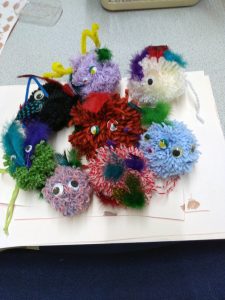 Click here to view Crafty Uniforms Facebook page.
Roccoco
The Syrian Bistro at Roccoco was a huge success last Saturday! The traditional dishes prepared by our Syrian families were delicious! The next event will be on Saturday 27th July 2019. If you'd like to book a place please contact Annabelle from Roccoco on 07557 568 724 between 10am and 4pm, Monday to Friday.
We are very proud to announce that Roccoco, our food based enterprise in Leyland, has once again achieved a five star food hygiene rating! Well done to all the team at Roccoco and keep up the great work! Come along to try our team's tasty dishes this week, they are open Monday to Friday 9:30am to 3:30pm.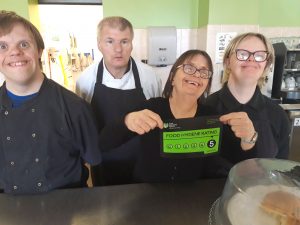 Click here to view Roccoco's Facebook page
Heaton Street
Here is one of Heaton Street's helpful team members getting ready to use the strimmer. If you've any gardening needs such as grass cutting, hedge trimming, pruning, planting, turfing/seeding, please contact our team on 07834 480 367; they'll be happy to help!
The team at Heaton Street, our land based enterprise, always take extra care in looking after their customer's gardens.
Click here to view Heaton Street's Facebook page
The Walled Garden
Adam, a wonderful team member at The Walled Garden, has been preparing the grounds ready for their summer displays. Why not visit The Walled Garden this weekend and see what they're up to; they are open Monday to Friday 10am to 4pm and weekends 10am to 4:30pm.
Click here to view The Walled Garden Facebook page.