The Brothers of Charity Services have various Social Enterprises for adults with learning disabilities; services are designed to support people to develop skills with confidence in a supportive working environment whilst offering services in the local community.
The social enterprises carryout lots of great, fun activities for the people we support and the local communities to get involved with. Here you will be able to find out what each of the enterprises have been up to.
Pets' Corner
Here is Pets' Corners new pet rabbit, Shadow Junior, enjoying his new hideaway, made by their lovely Saturday volunteers Abigail and Sophie. Doesn't it look great!
Digby, the French Lop rabbit loves having cuddles with Jennifer, one the members at Pets' Corner! Visit the social enterprise in Astley Park and enjoy a cuddle with their friendly resident pets. They are open Monday to Friday 10am to 3:30pm and at weekends 10am to 4pm.
Doesn't the new fairy garden at Pets' Corner look amazing? This was kindly created by their Wednesday group and volunteers. Come along and sprinkle a bit of magic into your life.
Click here to view Pets Corner's Facebook page
Crafty Uniforms
The team at Crafty Uniforms have recently re-arranged lots of their uniform stock and created a price list for their customers to see our amazing offers!
As many of you may be aware, the stock at Crafty Uniforms is pre-loved, then laundered with care ready for selling. They also often receive many kind donations from the public of brand new uniforms items, which are sold at very reasonable prices.
Why not pop in and have a look around to see what amazing bargains you find! They are open Monday to Friday 9am to 4pm.
One of the lovely customers at Crafty Uniforms, Christina, kindly baked a delicious cake for the team last week. They were so pleased to accept such a lovely offer and couldn't wait to get stuck in!
Christina said "I regularly makes cakes for lots of people and was very happy to make one for you all the support I've received over the years. I've managed to save a small fortune from buying the school uniforms for all my children from Crafty. I don't know what I would have done without you".
What a lovely message from Christina for the team at Crafty Uniforms; and the cake went down a treat!
Click here to view Crafty Uniforms Facebook here
Roccoco
Roccoco, our social enterprise in Leyland, hosted a special Veterans' Café yesterday, were they welcomed a royal visitor, HRH The Duke of Kent, along with the many veterans who attend the monthly event.
The Duke received a tour of Roccoco and enjoyed meeting the team and the veterans who have benefitted from the work of the café. The event was filled with story sharing and support between veterans, music from a fantastic Vera Lynn tribute act and delicious food provided by Roccoco.
Roccoco have also partnered up with South Ribble Borough Council to develop a unique Syrian refugee resettlement programme. As part of this programme, they've launched a Syrian Bistro which will be based at Roccoco.
Last Friday, Roccoco hosted a press launch for the bistro which was a huge success! The team provided a delicious buffet of Syrian inspired dishes and the press had the opportunity to talk to our Syrian families and the organisers of the project!
Click here to view Roccoco's Facebook page
The Walled Garden
The team at The Walled Garden have been getting rid of weeds this week to keep their gardens looking beautiful for visitors! Come and visit our social enterprise in Worden Park, Leyland, today between 10am and 4:30pm and see what they're up to.
Jake and James, wonderful team members at The Walled Garden, have been weeding the flower beds before the next rain shower arrives! They have also kindly helped a customer carry her hanging baskets, which she ordered from them, to her car. The team are always happy to help!
Did you know we have a Vine House at The Walled Garden, Worden Park, where they are growing Black Hamburg Grapes? They have had an amazing harvest this year thanks to the new roof on their vine house. The grapes have never looking so good! Chris, a lovely volunteer, has spent lots of time over the years caring and looking after the vine.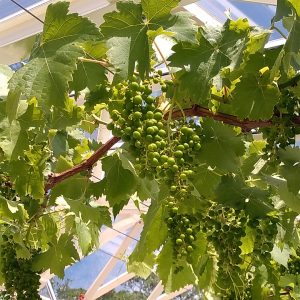 Click here to view The Walled Garden's Facebook page
Heaton Street
Our Heaton Street Gardening team gave their vans a makeover last week so they're always looking smart when out and about. The team take great pride in looking professional and getting the job done to the best of their ability; leaving their customers with a smile on their faces. If you need some help with your garden, please get in touch with our team on 07834 480 367 or email heaton.street@brothersofcharity.org.uk
Click here to view Heaton Street's Facebook page