The Brothers of Charity Services have various Social Enterprises for adults with learning disabilities; services are designed to support people to develop skills with confidence in a supportive working environment whilst offering services in the local community.
The social enterprises carryout lots of great, fun activities for the people we support and the local communities to get involved with. Here you will be able to find out what each of the enterprises have been up to.
Pets' Corner
We hope everyone had a lovely Easter weekend! Looking for something to keep the kids busy today, why not pop in to Pets' Corner, Astley Park and visit their very own Easter Bunny and lovely chickens! They will be open 10am to 3pm.
Thank you to everyone who took part in our Easter Activities. We hope you enjoyed them as much as our team at Pets Corner. Congratulations to Evie and Harry who are the winners of 2 Easter Eggs for their amazing answers to the Easter Quiz!
Make sure to visit Pets' Corner over the Summer Holidays for more activities for all the family to get involved with!
Click here to view Pets' Corner Facebook page
Crafty Uniforms
**Spotlight Stock** This week we are focusing on the knitting items we have in store here at Crafty Uniforms! Our pre-loved knitting needs are now only 30p per pair and we also have many ball soft wool from just 30p; along with a variety of embroidery threads at low prices too!
Come in and see what else the team have to offer with some amazing prices! Remember, if you can't quite find what you're looking for, our staff will be happy to check if we have anything in our stock room- you only need to ask!
Everyone once in a while something really pretty catches the eye… today it was this card topper with two dedicated dragonflies and a bee, with the slogan,
"Won't you come into my garden?
I would like my flowers to see you"
Isn't it beautiful? What caught your eye today and made you smile?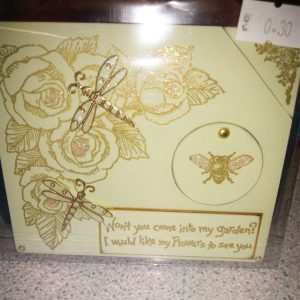 Click here to view Crafty Uniforms Facebook page
Heaton Street
Whilst the Heaton Street team were busy working in one of their customers gardens this week, they came across this Chaffinch watching them! We always keep a look out to see what wild life they come across. How many different kinds of wild life can you find in your garden?
Click here to view Heaton Street Facebook page
Hands on Gardening
With the hot weather coming, it is important to remember to water all plants and shrubs that are coming in to blossom! If you have any gardening needs please contact our team on 07834 480373, they will be happy to help!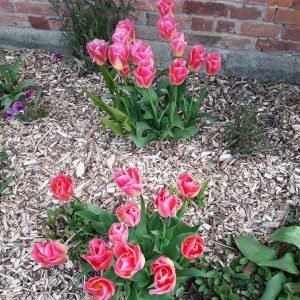 Click here to view Hands on Gardening Facebook page