The Brothers of Charity Services have various Social Enterprises for adults with learning disabilities; services are designed to support people to develop skills with confidence in a supportive working environment whilst offering services in the local community.
The social enterprises carryout lots of great, fun activities for the people we support and the local communities to get involved with. Here you will be able to find out what each of the enterprises have been up to.
Roccoco
This week's spring special menu at Roccoco is, Spring Salmon fillet on a bed of warm salad for £6.25, Potato Longboats filled with Mediterranean vegetables for £6.25 and Cherry Ricotta Cake for £3.50. Pop in and enjoy these delicious dishes, they are open Monday to Friday, 9:30am to 3:30pm!
James, Rebecca, David and Chris from Roccoco had a go at making their own pitta bread the other week in preparation for last week's specials. We hope everyone enjoyed the pitta bread served with the Grilled Halloumi Salad.
Click here to view Roccoco's Facebook page
Pets' Corner
Here our Pets' Corner's chickens enjoying the lovely sunshine over the weekend! Why not come along and visit the team at Pet's Corner, they're open Monday to Sunday, 10am to 3:30pm.
Rebecca, one of Pets Corner in Astley Park, Chorley fabulous team members, did a great job giving Digby and Shadow Junior some TLC! Pop in to our social enterprise this week and see what they're up to.
Click here to view Pets' Corner's Facebook page
Crafty Uniforms
The amazing team at Crafty Uniforms were very busy last week preparing craft items to sell at Brothers of Charity Services England's Health and Wellbeing event in Lancashire.
They had a fabulous display of crafty items including jewellery, fabrics, handmade greeting cards and lots more!
Everyone had a great time doing what they do best, sharing their skills and all of the great things the team at Crafty Uniforms get up to!
Crafty Uniforms received a lovely letter expressing gratitude for their support before Christmas when the team donated bags of stocking fillers to Home-Start to share out to their families.
The team would like to thank everyone at Home-Start for allowing us the opportunity to help and to Mr and Mrs Link for their kind donations that enabled this to happen.
As many of you may unaware, that on Saturday 30th March from 8:30pm to 9:30pm it is Earth hour! This is celebrated all around the world by turning out your lights; we hope many of you will join in too.
Sunday 31st is Mother's Day and to celebrate, the amazing team at Crafty Uniforms have created this amazing window display wishing all the mums out there a very special day! Make sure to remember… "Many hands make light work, and gives mum a well-deserved rest."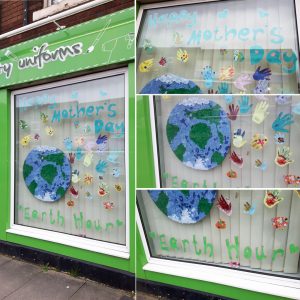 Click here to view Crafty Uniform's Facebook page.