The Brothers of Charity Services have various Social Enterprises for adults with learning disabilities; the services are designed to support people to develop skills with confidence in a supportive working environment whilst offering services in the local community.
The social enterprises carryout lots of great, fun activities for the people we support and local communities to get involved with. Here you will be able to find out what each of the enterprises have been up to.
Roccoco
Daniel our amazing team member at The Marina Café, Roccoco's sister café in Adlington, was really proud of the fish and chips he made recently for some delighted customers. The customers loved it so much that they requested Chippy Fridays every week at the café! The Marina Café is open Monday to Friday, 9am to 4pm; pop in and enjoy one of their delicious dishes for yourself.
Keilan from our team at The Marina Café in Adlington did a fantastic job making beef burgers as part of a special menu the other week, and inspired the rest of the team to have a go aswell!
Click here to view Roccocos' Facebook Page.
Crafty Uniforms
Our team have been very busy preparing for our upcoming craft session. James, Lucy and Andrew have been painting wreaths green ready for the poppies to be glued on soon. Haven't they done a really good job; well done guys!
Looking for a last minute Halloween costume? Check out Crafty Uniforms funky tutus and dreadlocks. Pop in this week and what else they have, we're open 9am to 4pm, Monday to Friday!
The Crafty team recently received a huge bag of what they thought was scrap fabric, but it turned out to be Nativity costumes for primary school age! There is a king, Mary and several shepherd outfits available. Please feel free to pop in during the week to have a look.
The amazing Crafty Uniforms team have been busy making a huge pumpkin that was used as a sign for the raffle at Voice for All's Halloween Party on Tuesday. Doesn't it look fabulous? We hope everyone has a 'spook-tastic' Halloween!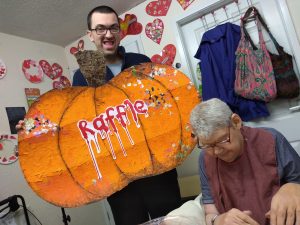 Click here to view Crafty Uniforms' Facebook Page.
The Walled Garden
Autumn brings a beautiful array of colours to The Walled Garden and it's the perfect time to visit for a wander round. If you're heading to Worden Park over the weekend, pop in to our social enterprise and see what the team have been up to.
The team at The Walled Garden were peelin' good celebrating Apple Day last Saturday! They had lots of visitors having a go at pressing our home-grown apples to make apple juice. Thank you to everyone to went along and joined the team on the day. Visit our social enterprise in Worden Park over the weekend and see what they're up to; they're open 10am to 4:30pm, Saturday and Sunday!
Ulrich, one of the amazing team members at The Walled Garden, has been building a hedgehog box for a customer.  He's been working on this project with help from Les, one of their fabulous volunteers.
Click here to view The Walled Garden's Facebook page.
Pets Corner
Looking for a way to keep your kids busy? Why not pop in to Pets Corner and say hello to their resident pets and friendly team. It's free entry and open 10:30am to 3:30pm weekdays and 11am to 4pm over the weekend! We can't wait to see you all!
Click here to view Pets Corners' Facebook page.